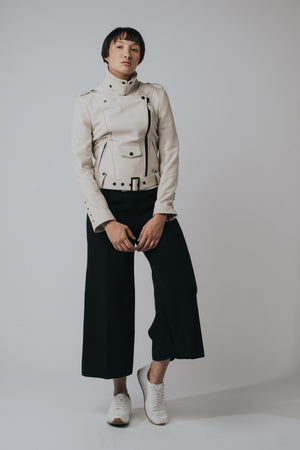 Rider - Bone -
Sale price Price $650.00 USD Regular price
Snacku's most popular style the Rider is updated with the badass back gusset and waist belt! The waist belt is snapped at center back ( so you don't need to worry about losing it! Yay!)  It still has the cool features the original Rider D-pocket has such as the collar tab to make it stand collar when it's cold and the tiny little traditional cigarette pocket.  Another cool feature is the oxidized black metal -matte black - hardwares.  Enjoy Snacku's new color way "Bone".  You liked the D-pocket better? No worries!  D-pocket is always there for you at online shop!  
Split Your Payment!  - Buy now, pay it later!   No extra cost.    ex) 20% down payment & 10 months   Click to learn more
Shipping   - Free Shipping + Returns on all US orders
Next Delivery - June 1st to 15th
Manufacturing Origin  - Squirrel Factory, San Francisco, CA
Care & Info  - Please do not wash or dry.  Lifetime warranty.  For repair, Please contact the squirrel!
Materials
Naked Cow Leather: Manufactured in Johnston, NY.  Row skin is from LWG certified tanneries in Argentina.

Please keep in mind that because our leather is natural, there may be slight variations in color & finishing from what is represented on our swatch card, but that's part of what makes each Snacku jacket unique! 

Lining: Polyester with Snacku original cartoon printed in North Carolina. 

 

#10 Zipper for front closure and sleeve opening

Disc type snap buttons
Fit  - True to size.    - Model: Crissy is wearing size XS.  Her height is 5'9". Chest is 32". 
   Size Chart  
   Leather Swatch 
   Ask The Squirrel