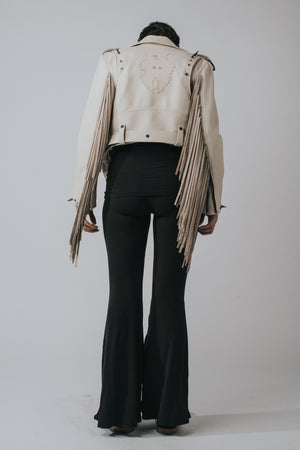 Biker Limited Edition - Monster -
Sale price Price $790.00 USD Regular price
Can you see a monster like creature appliqué-ed on the back? At the beginning of making this Black Angels series, I was brainstorming and collecting motives as usual. At some point I started playing around with Rorschach test. I drew half of the caveman (my husband)'s face and folded paper and opened it and he got this scary hairy horns and stuff. The actual Caveman was freaked out with this Rorschach caveman like a monster and he said he didnt wanna be a monster but, Hey, don't judge people from their appearances, okay? He might be the sweetest and nicest monster. What you see in his orange eyes is all up to you, just like the Rorschach test!  Be careful, it's very spiky! The spikes are placed oddly just like your odd heart which no one can ever touch! Hurry, it is limited because it takes us for super long time to make one.  Available this Winter.  
Split Your Payment!

  
- Buy now, pay it later!   No extra cost. 
ex) 20% down payment & 10 months
Shipping   - Free Shipping + Returns on all US orders
Delivery - June 1st to 15th.
Manufacturing Origin  - Squirrel Factory, San Francisco, CA
Care & Info  - Please do not wash or dry.  Lifetime warranty.  For repair, Please contact the squirrel!
Materials
Naked Cow Leather: Manufactured in Johnston, NY.  Row skin is from LWG certified tanneries in Argentina.

Please keep in mind that because our leather is natural, there may be slight variations in color & finishing from what is represented on our swatch card, but that's part of what makes each Snacku jacket unique! 

Lining: Polyester with Snacku original cartoon printed in North Carolina. 

 

#10 Zipper for front closure and sleeve opening

Disc type snap buttons
Fit  - Fitted.  Cropped Body Length.    - Model: Crissy is wearing size XS.  Her height is 5'9". Chest is 32". 
   Size Chart  
   Leather Swatch 
   Ask The Squirrel