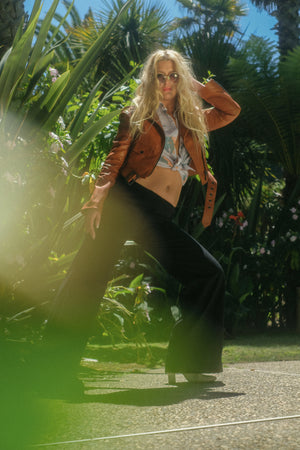 Biker - Acorn -
Sale price Price $650.00 USD Regular price
Rocker, Rider and this Biker have the same features. Collar tab to make it stand collar when it's cold, tiny little traditional cigarette pocket, back gusset for you to move around, dance around much easier, yeah go crazy, ladies, badass waist belt which you can snap at center back (you won't get bothered loosing it while you are going crazy) and oxidized black metal -matte black - hardware. The Only difference is fit. So it's easy for you to pick your favorite fit. This Biker is featuring fitted cropped body length.  If you like oversized fit, go for Rocker.  If you like a little more longer fit, go for Rider.
Split Your Payment!  - Buy now, pay it later!   No extra cost.    ex) 20% down payment & 10 months   Click to learn more
Shipping   - Free Shipping + Returns on all US orders
Manufacturing Origin  - Squirrel Factory, San Francisco, CA
Care & Info  - Please do not wash or dry.  Lifetime warranty.  For repair, Please contact the squirrel!
Materials
Naked Cow Leather: Manufactured in Johnston, NY.  Row skin is from LWG certified tanneries in Argentina.

Please keep in mind that because our leather is natural, there may be slight variations in color & finishing from what is represented on our swatch card, but that's part of what makes each Snacku jacket unique! 

Lining: Polyester with Snacku original cartoon printed in North Carolina. 

 

#10 Zipper for front closure and sleeve opening

Disc type snap buttons
Fit  - Fitted.  Cropped Body Length.    - Model: Crissy is wearing size XS.  Her height is 5'9". Chest is 32". 
   Size Chart  
   Leather Swatch   
   Ask The Squirrel