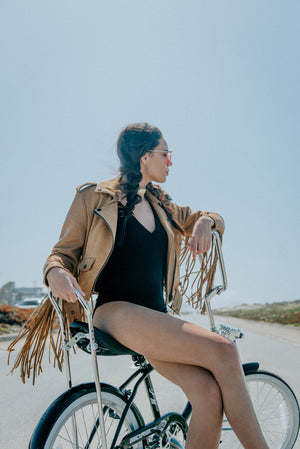 Biker Limited Edition - Squirrel -
Sale price Price $850.00 USD Regular price $850.00 USD
The newest style, Biker is here.  This Biker Limited edition is featuring fringes and the embroidery patch.  And of course, we cut these fringes all by hands in our  workshop, the Squirrel Factory!  While we cut the fringes, we always think of  you, the special girls like you!   Hurry, it is limited!  Available in December
Split Your Payment!

  
- Buy now, pay it later!   No extra cost. 
ex) 20% down payment & 10 months
Shipping   - Free Shipping + Returns on all US orders
Next Delivery - June 15th to 30th
Manufacturing Origin  - Squirrel Factory, San Francisco, CA
Care & Info  - Please do not wash or dry.  Lifetime warranty.  For repair, Please contact the squirrel!
Materials
Genuine Lamb leather tanned and dyed in Napa Valley, California.

This pecan color leather has a beautiful weathered palette.  Please keep in mind that because our leather is natural, there may be slight variations in color & finishing from what is represented on our swatch card, but that's part of what makes each Snacku jacket unique! 

Lining: Polyester with Snacku original cartoon printed in North Carolina. 

 "Middle Earth" (click to the episode)

#10 Zipper for front closure 

Disc type snap buttons
Fit  - Fitted.  Cropped Body Length.    - Model: Shanice is wearing XS. Her height is 5' 8", Bust 32", Waist 25", Hip 29", Fortune is wearing XS. Her height is 5' 9", Bust 32", Waist 24", Hip 35". 
   Size Chart  
   Leather Swatch   
   Ask The Squirrel