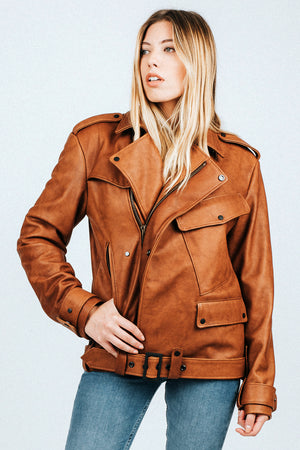 Dispatch - Unisex - Acorn
Sale price Price $750.00 USD Regular price
Currently this item is made to order.  Please be aware that it will take 6 weeks to manufacture and ship to you due to our small team's busy production schedule.
For $75/mon & $75 down payment.  (exclude tax)
Shipping 
- Free Shipping on all U.S. orders -
Manufacturing Origin
Squirrel Factory, San Francisco, CA
Care & Info
Please do not wash or dry.  Lifetime warranty.  For repair, Please contact the squirrel!
Materials
#10 Zipper for front closure 

Disc type snap buttons
Description 
Inspired by British Army Dispatch rider coat during WWI, this style features a big slanted chest pocket and a gun flap.  Assembled in the Squirrel factory by our artisan seamstress who has 20 year experience sewing leather jackets.
In every collection, designer Squirrel launches a unique cartoon print lining using digital printing. This time the designer created a whimsical print pattern of forest creatures and fantasy friends. A portion of sales proceeds will go to forest preservation funds.
Fit 
True to size for Guys.  Oversize for Gals.
Will

 is wearing size M.  His height is 5' 11", chest 39", waist 31".  

Floriane

 in Raven is wearing size XS.  Her height is 5' 11 1/2", bust 32", waist 24".  

Madeline

 in Acorn is wearing size XS.  Her height is 5'8", bust 34", waist 25"