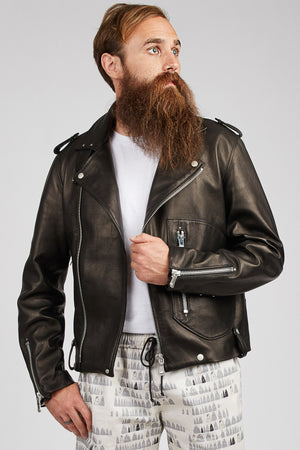 Rocker D-Pocket
Sale price Price $650.00 USD Regular price
Manufacturing Origin
Squirrel Factory, San Francisco, CA
Care & Info
Please do not wash or dry.  Lifetime warranty.  For repair, Please contact the squirrel!
Materials
Genuine Lamb leather tanned and dyed in Napa Valley, California.

Lining: Polyester with Snacku original cartoon print "Expedition", printed in North Carolina

#10 Zipper for front closure 

Disc type snap buttons
Description
Inspired by Buco's J-24. Featuring D-pocket and collar tab. The collar tab enables you to wear it as a stand collar jacket in cold weather.  Assembled in the Squirrel factory by our artisan seamstress who has 20 year experience to sew leather jackets.
Fit
True to size for Guys.  Oversize for Gals.  -Will is wearing size M.  His height is 5' 11", chest 39", waist 31".  -Floriane is wearing size XS.  Her height is 5' 11 1/2", bust 32", waist 24"  
   Size Chart   
   Leather Swatch
   Ask The Squirrel